STOP RUNNING AFTER ME – By Oluwatoyin Yusuf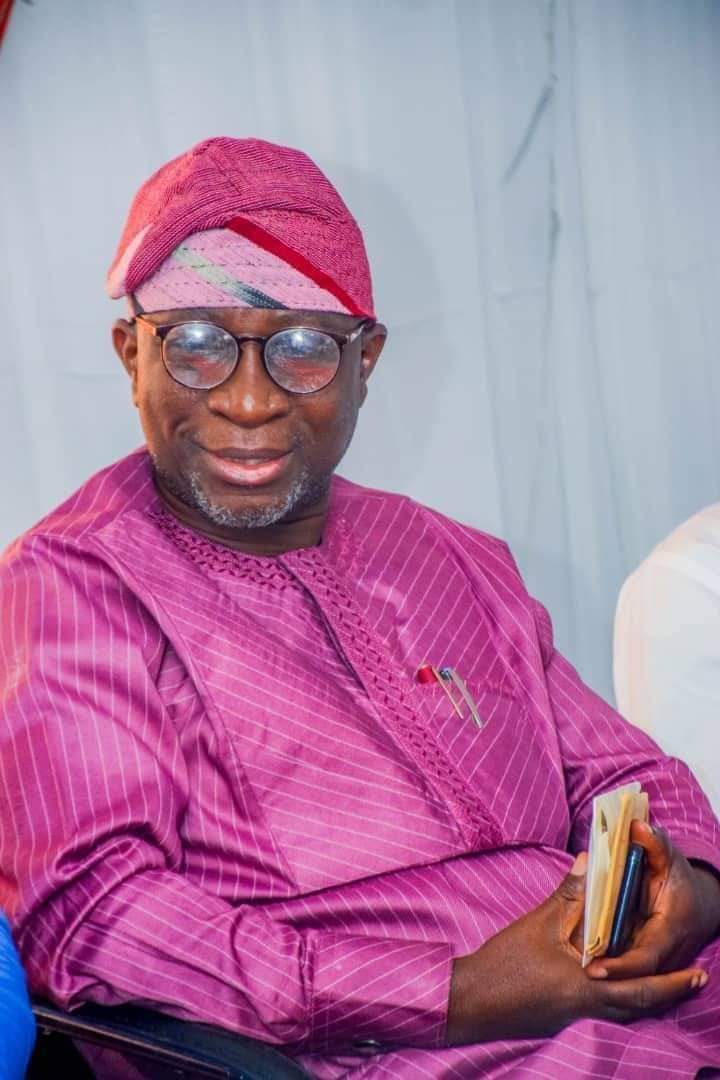 Stop Running After Me.
When I was young in marriage and my daughter was few months old, I went out one day and returned home late, it was past 9 o'clock. I met my wife outside waiting for me. She lay the baby inside. After exchange of pleasantries and my meal, I sat her down. Look Iyawo, before the baby came, our love for each other was 100. Now, divide the love into two. Give me 50 and I give you 50. The remaining 50+50=100 should go to the child. She needs our attention together.
In the past, our mothers would say tori omo ni awon se duro nile oko. That was the truth. But now, tori oko(penis) ni awon obinrin se duro nile oko. They are less bothered about the welfare of their children as long as the husband"s attention shifts to the bed. That is a reason marriages collapse. Our wives cannot tolerate nonsense but our mothers could take super nonsense because they are not wise. Obinrin to ba go,lo n pe nile oko. Once you are wise, don't go into marriage. Our mothers suffered humiliation in marriage and survived it because of their children.
Your husband is dating another woman. You want to da gbogbo e ru. If you allow jealousy to overtake you, one of these three happens to you.:
a. You kill your husband and you rot in jail
b. Your husband kills you and he gets a death sentence
c. You kill the other woman and you too get a death sentence.
In each case, your children grow up to become louts and whores. You are walking out of marriage because another woman wants to snatch your husband? Go ahead and leave your children at the mercy of the other woman. OK, you take your children along. Take them along. After a few weeks, you meet Baba Alaanu e, abi? Baba will pay your rent, feed you and your children and send them to school? Mind you, Baba Alaanu has a wife. You want to snatch another man's husband. You expect Baba to take care of your children for you? Pray he doesn't take your big daughter to bed one day.
My dear Sister, your children are your treasure. Ko si eni to n le oko kuro nile oko. Okunrin o ki n dale mosu. You have a home to uphold. The children are your home. Ma gbe oko leri at the expense of your children. A happy family produces a happy children. Happy children make a happier World. Our grandmothers sat so that our parents could walk. Our mothers endured the trek so that we could run. My dear Sister, do a good race so your children can fly and have a good flight.
A Sister from Ogun State asked about the advice I would give a woman in the face of domestic violence. Alimi Fatimo Adedoyin, I have not written to judge anybody, far from it. I have only written to girls ladies and women who want to keep their marriage and children.
Domestic Violence
Many nikaah start breaking up the very day the nuptial knot is tied. The officiating clerics make marriage look like a bed of roses in their sermon. They put everything on the groom. They tell the groom to provide everything for the wife. After that, they tell the husband to do everything for the wife: Fetch water, wash plates, help in the kitchen, go to market if he has the time. By the time a family member of the husband visits and sees the servitude the man is in, the groom's family holds a meeting and crack sets in. He changes gradually. The wife reacts angrily. Violence creeps in.
A Muslim cleric will tell the groom to always se suuru in the face of provocation from a wife. They say suuru la fi nsoko obinrin.
When you insult your husband in the presence of his friends and family. Haba! You take your husband for a ride. Because a cleric advises your husband to take his shirt and leave the home when provoked, you think your husband is roaming the streets? No, he goes into the hands of another woman. When you get to know, you want to cause trouble. You have pushed him to the wall. He responds angrily. The marriage breaks down.
Why can't our clerics tell women to also se suuru when the husband is angry, to go on their knees? Don't tell me Alawoku ni obinrin. No. Did I tell you I run a psychiatric hospital in my home? Before you push your daughter out into marriage, heal her of the madness. Sit her down and talk senses into her unless you want to help get a "padlock" for the husband. My Sister, don't say it's love for a man to do domestic chores. Can you watch your son do that for a woman. You would react and hate the wife.
Second, men don't tolerate stubborn women. Women who insult. Women who query their husband's movement instead of caring to know about their movement.
Third, many women want to hold their husbands as their mothers hold their fathers. Your father could be subservient to your mother, your husband might not. He is not your father.
I'm 28 years in marriage, my daughter is more than 3 years in marriage. I see Muslim marriages break up because of the factors above. Don't push your husband into pretence during courtship and don't pretend to be a good girl during courtship.
Finally, you and your husband should discuss polygamy. If he assures you of monogamy, take it as a lie and be prepared for polygamy.
My opinion .
Oluwatoyin Yusuf, an Islamic scholar and Imam is a broadcast journalist with the Osun State Broadcasting Corporation (OSBC). He writes from Osogbo.
Staff Audit: Bedridden Pensioners To Partake Via Telephone – Osun Govt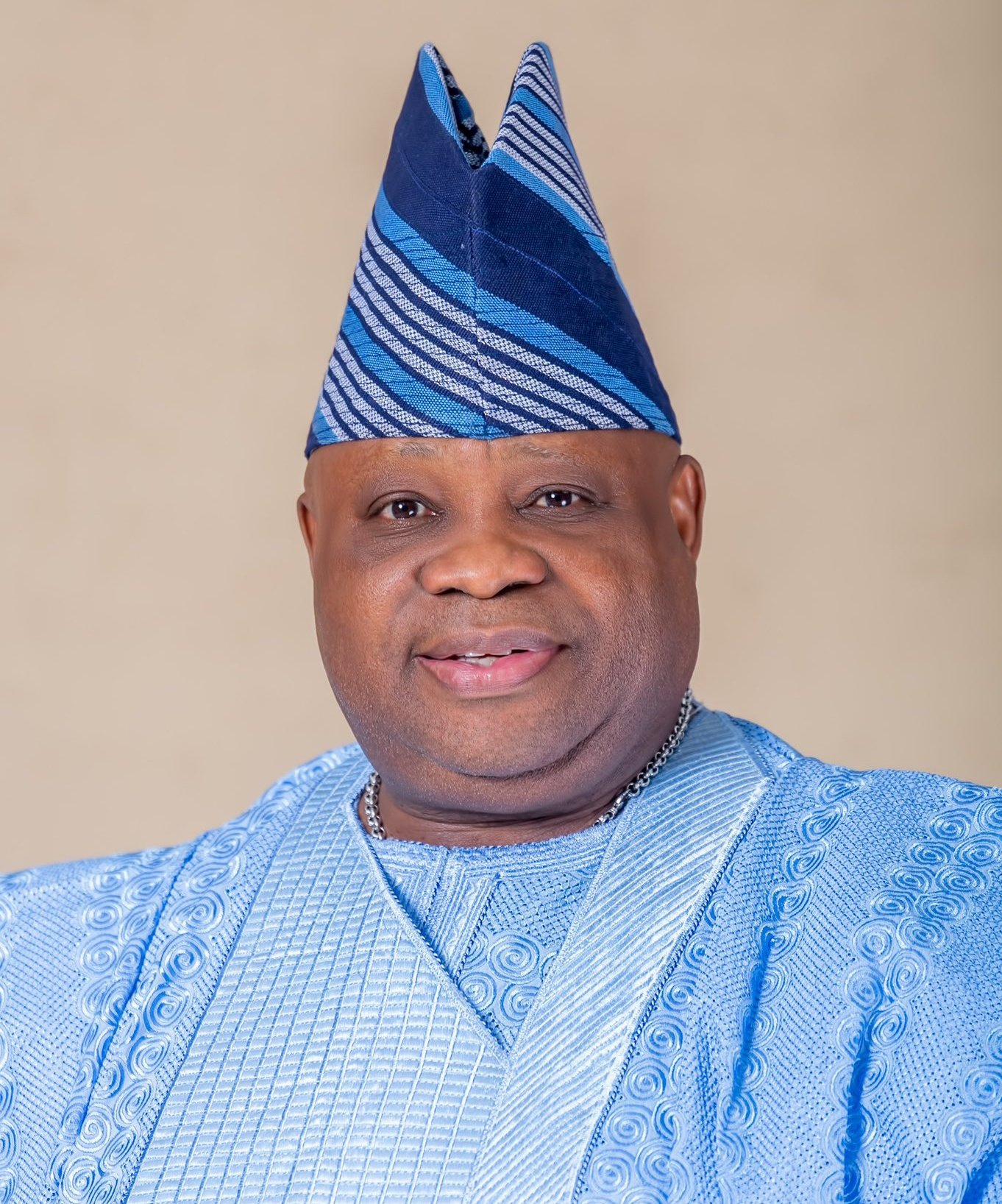 Osun State Government has said all bedridden pensioners and others with serious health challenge will henceforth have their audit exercise conducted through telephone.
A statement by signed by the State Commissioner for Information and Public Enlightenment, Kolapo Alimi on Monday revealed that such pensioners, will no longer be required to be physically present at the venue of the screening exercise.
The statement added that pensioners who are currently outside the State would have their screening conducted via the same means.
It also said "Pensioners outside the state at the moment no longer need to travel down to Osun State as they will also be having their screening through the telephone.
"Additionally, pensioners in the diaspora will also be screened only through video calls.
"In line with the above, the Pension Board is expected to make available all the particulars, especially pictures of pensioners to the Consultant, for ease of identification during the video call screenings.
"The above directives take immediate effect."
Pensioners Collapse During Screening In Osun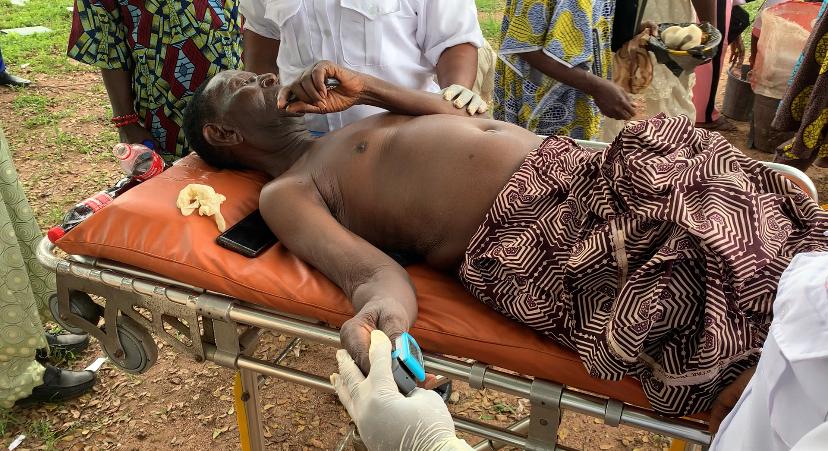 …Govt should decentralise process to prevent avoidable deaths – Retirees
Pensioners in Osun State have appealed to the State government to decentralise the ongoing screening of its workforce including retirees.
The call became necessary as some of the aged retirees collapsed on Monday within the premises of the Center for Black Culture and International Understanding, Osogbo, venue of the ongoing screening.
It took the intervention of the medics of the State Ambulance Service to revive and stablise the victims.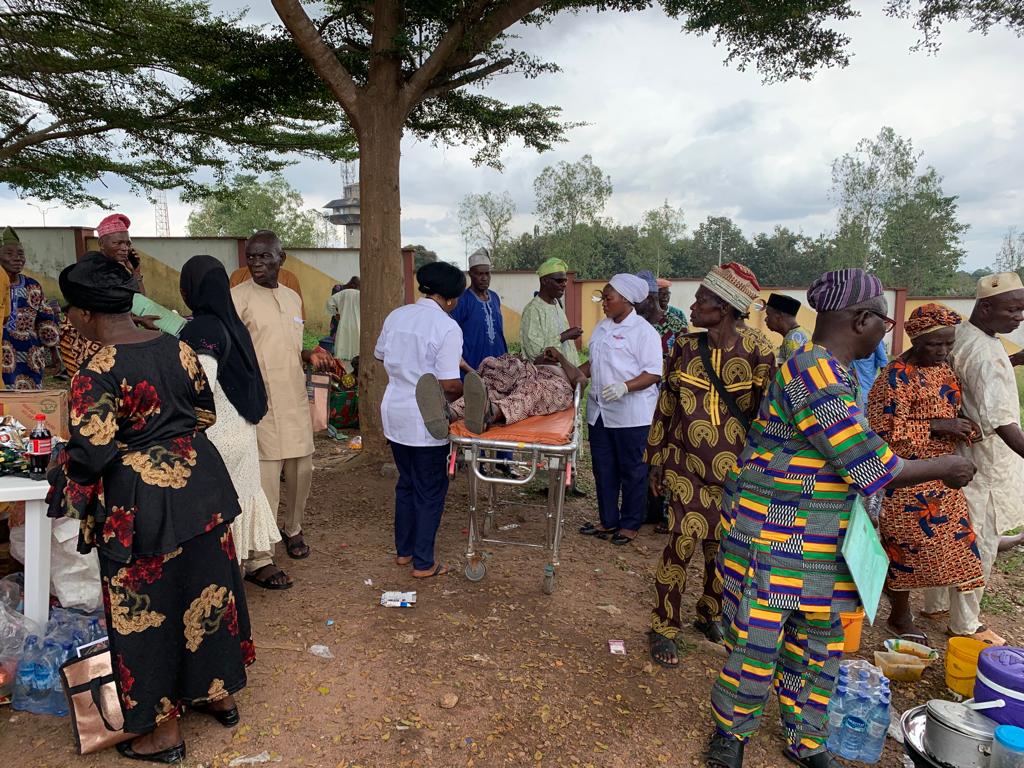 Retirees, numbering about 2,000 old men and women who are visibly aged, frail and in some cases sick, were at the venue for the screening exercise.
A number of them who could not withstand long time standing were seen either, lying down, sleeping or sitting on the bare floor to avoid eventuality.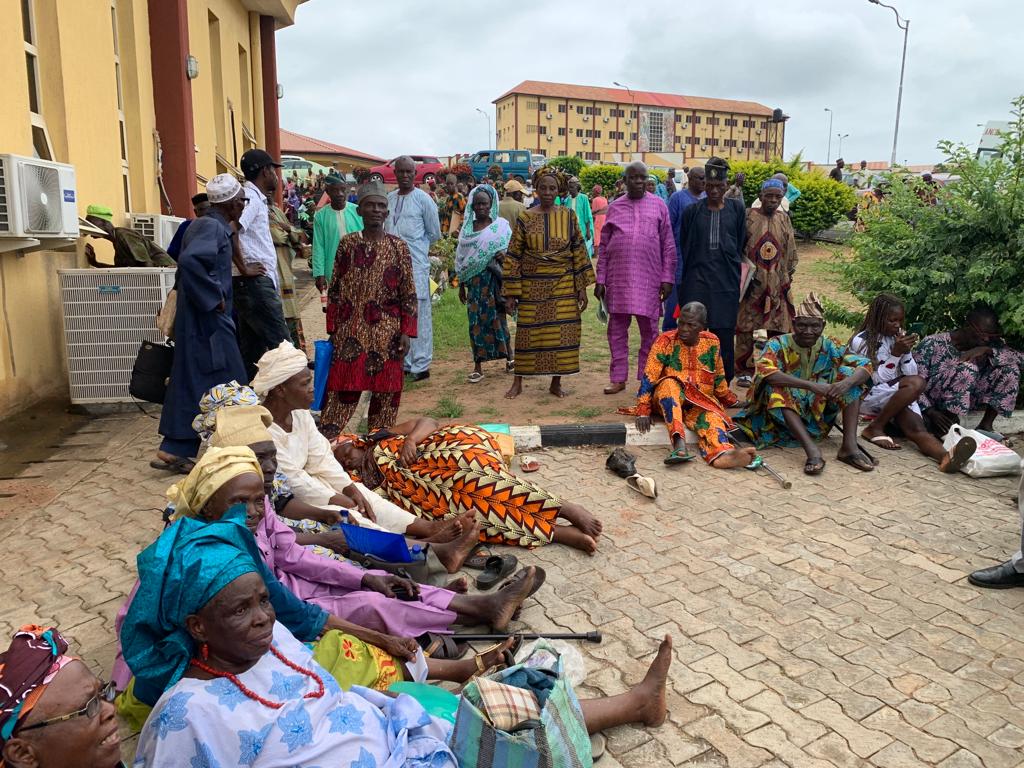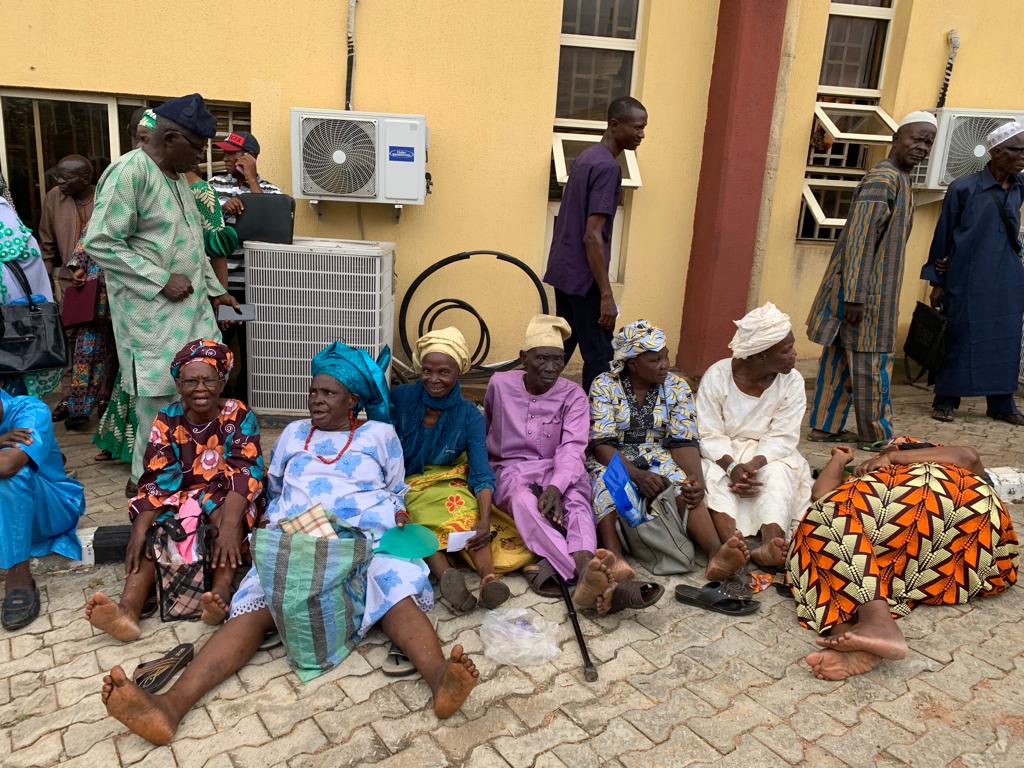 Many of the pensioners were visibly angry for what they described as inhuman treatment by the handlers of the exercise.
Sunday Omotosho decried the arrangement and the eventual treatments of his colleagues who came for the exercise from across the State.
Though, he agreed that the exercise as sanctioned by the State government was desirable, but was of the opinion that the process would have been made easier if it were to be done on local government or zonal basis.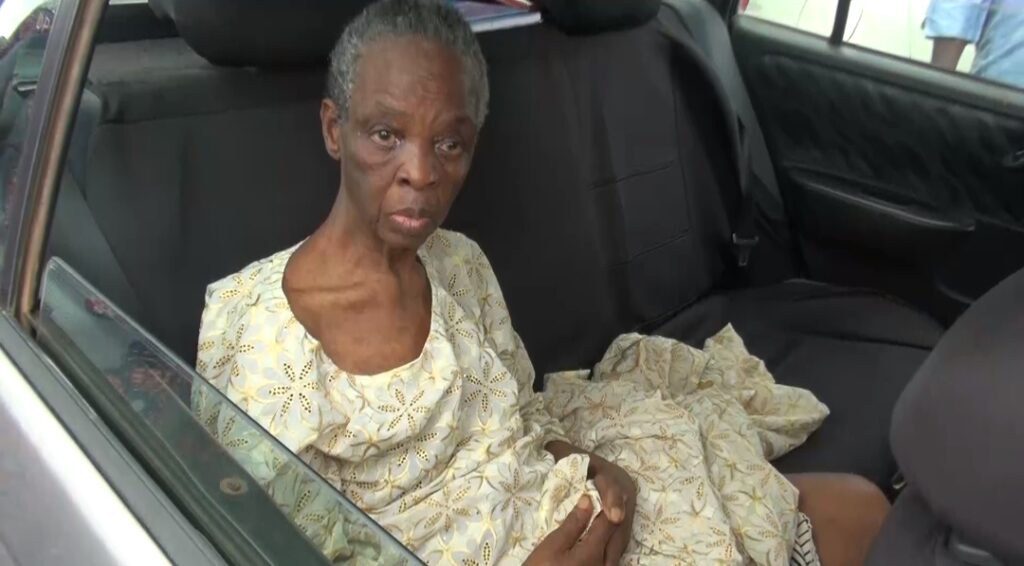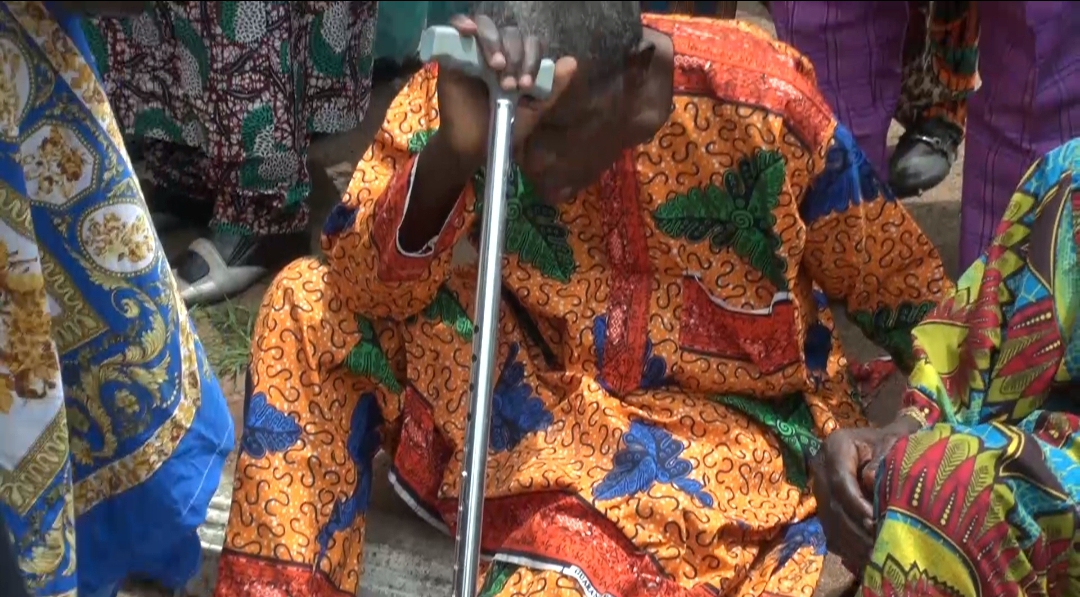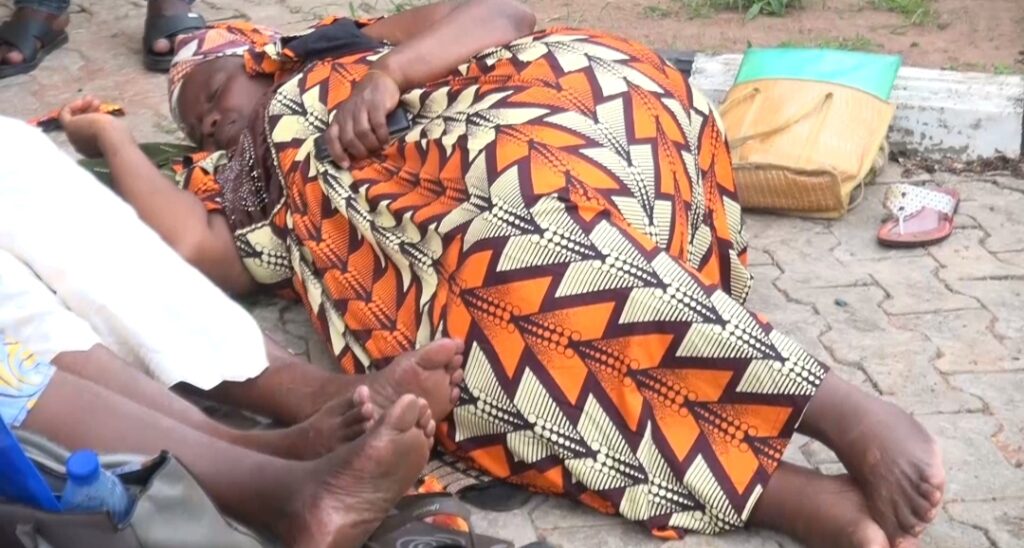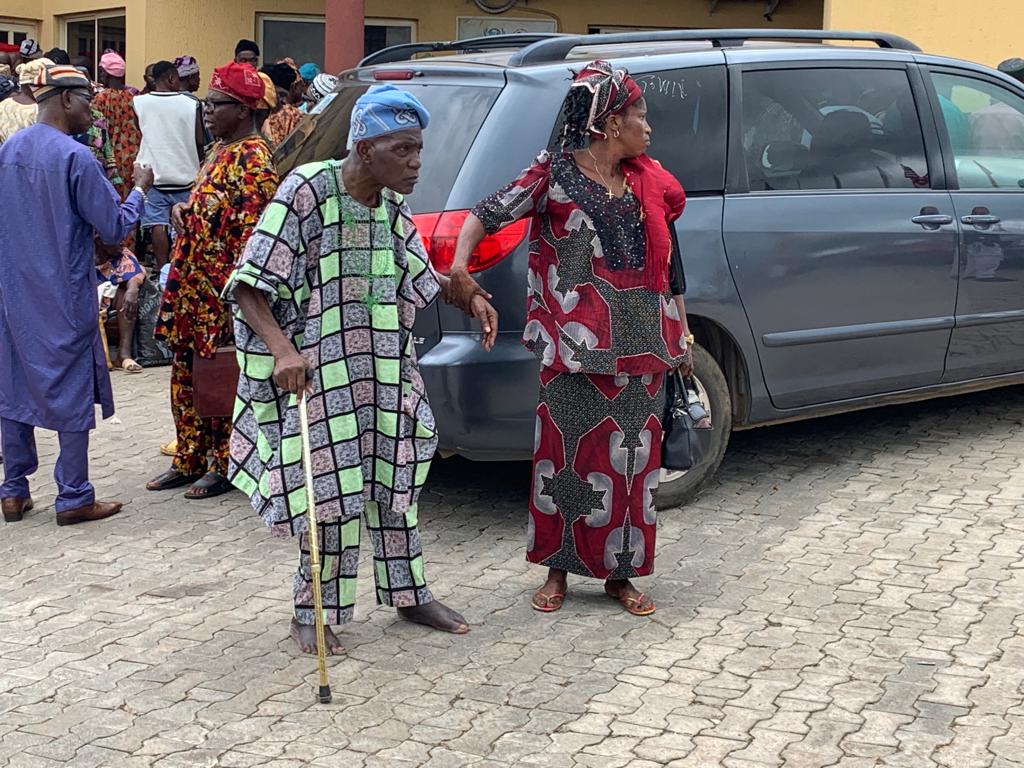 As at press time, the exercise was yet to commence as the consultant in charge, Saadat Bakri-Ottun was yet to arrive the venue, hence the wait prolonged.
The staff audit was earlier suspended for weeks by the state House of Assembly over inhuman treatment meted to the civil servants by the consultant, but the suspension was lifted after she promised to correct her mistakes.
Breaking: Protest Rocks Iree Poly Over Removal of Rector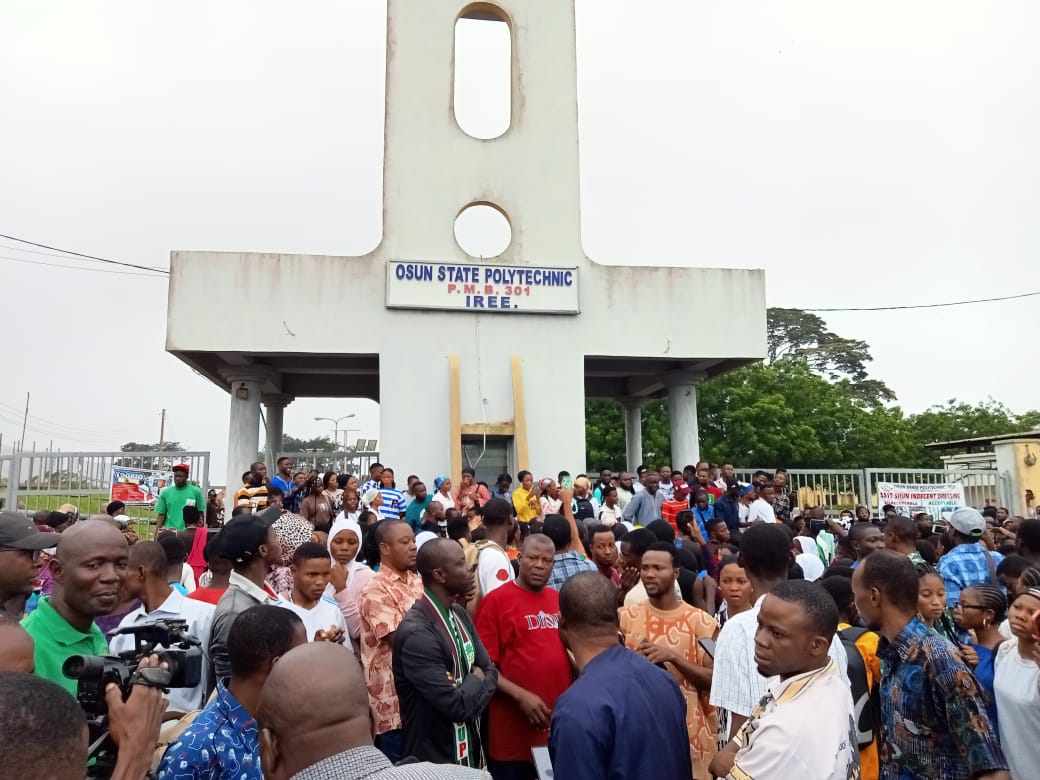 ….ASUP, Students lock school gate to prevent academic activities
Heavy protesters have laid seige on the entrance of the Osun State Polytechnic, Iree, Osun State against the removal of the institution's rector, Dr. Tajudeen Adewale Odetayo.
The State governor, Senator Ademola Adeleke had reportedly suspended Odetayo and allegedly replaced him by his kinsman.
Protested gathered at the frontage of the polytechnic entrance as early as 7:30 on Tuesday morning carrying different placards with different inscriptions to register their displeasure against the removal of the embattled rector.
The school gate has been put under lock and key, by the students and the school chapter of the Academic Staff Union of the Polytechnic, ASUP preventing academic activities and other activities on the campus.
More to follow…